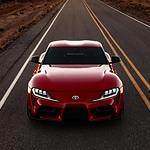 The Toyota GR Supra is a new sports car model that delivers performance, acceleration, and fuel economy in one tightly designed package. The GR Supra delivers a punchy ride with an amazing inline six-cylinder engine. You can feel the power when you push on the pedal, but it's the roar of the engine and smooth-shifting that make this sports car an amazing purchase if you want a powerful engine under your foot.
The 3.0-liter inline supercharged six-cylinder delivers 335 horsepower and 365 lb-ft torque. The twin-scroll supercharger is special for this Toyota. In addition, the GR Supra has an eight-speed automatic transmission and a rear-wheel drivetrain. You'll get all of the power out of this vehicle and still achieve 31 mpg on the highway for fuel economy.
The GR Supra snaps forward when you need it to. Want to see what we mean? You can see the latest Supra models and test drive one when you visit Del Toyota.