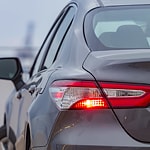 The Toyota Camry has long been one of the most popular midsize sedans available to car buyers. Year after year, it has consistently ranked in the top 10 most popular sedans. It is well-suited for both family and work driving.
When you are in the market for a popular sedan that will serve you well for years, choose the new Camry. The performance features available ensure that you get the best driving experience each time. The Camry is optimally designed to drive in any kind of weather. It handles itself well not only in dry driving conditions but also in rain and snow. It has the power and grip to drive in even the most challenging of road conditions.
The Camry also has a powerful four-cylinder engine. This engine is built to give you good performance on both city roads and highways. You can get full power to the engine in mere seconds.