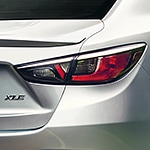 There are several things that people are looking for in a car. The exterior is one of the main things that people pay attention to when they are looking for a car. There are several features that make the Toyota Yaris stand out from other vehicles.
This vehicle has auto on and off LED headlights. They use less energy and shine brighter than your regular headlights. Because this feature has an automatic on and off feature, you won't have to worry about turning the headlights off before you get out of the car.
This vehicle also has heated power side mirrors with LED turn signals. The heat will prevent the snow and ice from obstructing your view. It will also be a lot easier for people to see when you are getting ready to change lanes. If you want to see the Toyota Yaris's exterior features and test drive it, then you can visit the dealership.