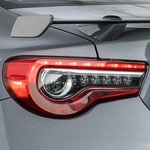 The Toyota 86 is a sports car that has been catching our attention at Del Toyota for some time. With an interior that boasts features other sports cars just aren't coming close to, it's no surprise that the 86 is popular addition to the Toyota sports car repertoire.
What truly sets the 86 aside from many other sports cars on the market are its interior features. These include a steering wheel equipped with audio controls to allow the driver to easily manage technology while staying focused on driving. Another notable feature are the folding rear seats, which add cargo space and an overall sense of practicality to the Toyota 86.
To fully experience the Toyota 86, why not come take one out for a test drive? Here at Del Toyota, our experienced team is more than ready to set you up with a drive of what could be your new favorite car!