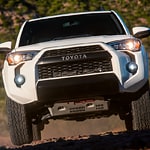 The all-new 2022 Toyota 4Runner has finally arrived and it is packed with more capability features than ever before. Here is everything you need to know about the new Toyota SUV.
-Powerful engine: The 2022 Toyota SUV is powered by a reliable and powerful engine that can take you anywhere you need to go.
-Off-road capability: With its off-road capability features, the new Toyota SUV can handle any terrain you may encounter.
-Towing capacity: The new Toyota SUV has a towing capacity of up to 5000 pounds, so you can easily take your boat or trailer with you on your next adventure.
-Safety features: The new Toyota SUV is equipped with safety features that will keep you and your passengers safe on the road.
-Comfort and convenience: The new Toyota SUV comes with comfort and convenience features that will make your ride more enjoyable.
?